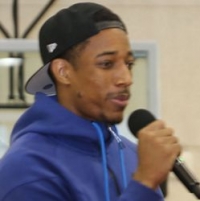 Toronto, ON – March 19th, 2015 – NBA All-Star DeMar DeRozan and his fiancée Kiara Morrison announced the official launch of the second year of the DeMar DeRozan All-Star Book Program. The program will give nearly 300 grade five students at ten selected schools the opportunity to read and passionately discuss some remarkable Canadian books and an opportunity to start building their own personal library. The program is expected to distribute over 3000 age-appropriate books this year.
"Promoting literacy and supporting youth in the Toronto community is very important to me because I personally benefited from a strong support team when I was growing up and saw firsthand the difference it can make," said DeMar DeRozan. "Kiara and I are grateful for the participation of the co-sponsors of this program, BMO, First Book Canada, The BIGA Picture and Compugen Finance Inc. Their generous support has allowed us to renew the program for a second year in 2015 and build on last year's success."
The DeMar DeRozan All-Star Book Program challenges the students to read a book and write a book report each week for ten weeks, representing DeRozan's jersey number: 10. The class with the most comprehensive and timely book reports will win tickets to the final Toronto Raptors home game this season, a meet and greet with DeMar DeRozan and new books for every student in the winning school. Students from last year's winning school, St Jane Frances Catholic School, were present and acknowledged at the press conference.
Compugen Finance Inc. will be donating 10 refurbished notebooks with Microsoft software, one to each of the participating schools for use in their library as well as a Kobo e-Reader for each of the classes participating in this year's program.