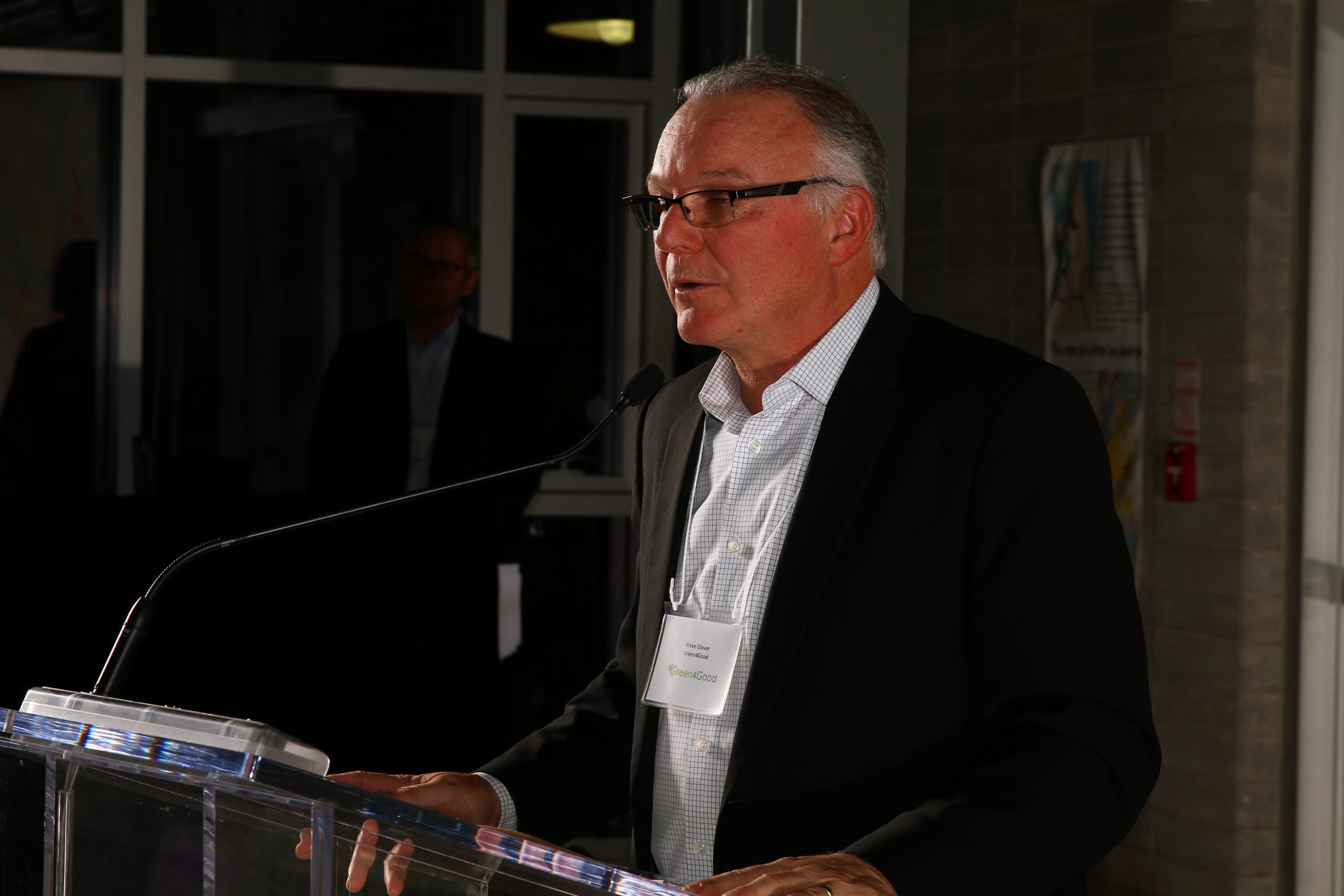 RICHMOND HILL, ON-—7 January 2015—Compugen Finance is pleased to announce the recipients of the 2014 Green4Good Partner Awards on Thursday evening, December 11 at Evergreen Brickworks, Don Valley, Toronto. The awards were given at a celebration honouring cumulative donations of $1M to charities through Green4Good. Many of the donor and recipient organizations were represented among the attendees. Green4Good, a program that turns end-of-first-life™ IT assets into cash for charities, began in 2009 and is now entering its sixth year of operations.
Corporate awards, given for commitment to IT asset reuse through participation in the program, were presented by Steve Byrne, Green4Good Program Director.
• McCarthy-Tétrault: accepted by Tracie Crook, Chief Operating Officer; • Metrolinx: accepted by Elaine Amaral, Network Operations, Coordinator, Information & Information Technology; • Telus: accepted by Suzanne Trusdale, VP, Small Business Services, TELUS Community Board)
Additional Corporate awards are being presented separately to Empire Life, CNRL, CGI, RSA, and Aeroplan.
Individual awards were given for exceptional dedication to the program and its aims. Awards were presented by Steve Glover, Senior VP, Compugen Finance
• Heroes: Ellen Campbell, CEO and Founder, Canadian Centre for Abuse Awareness; • Visionary: Claudette McGowan, VP, Digital Workspace Services, Bank of Montreal; • Pioneer: Stewart Banks, AVP, Workspace Service Delivery, TD Bank.
Harry Zarek, President and CEO of Compugen, welcomed guests, and Geoff Cape, Founder and CEO, Evergreen, offered greetings on behalf of Evergreen, a program participant and provider of the venue.
The evening's Keynote Speaker was Rachel Guthrie, Director, Corporate Responsibility and Strategy, TD Bank.
Speaking to the significance of meeting the $1M donation milestone, Program Director Steve Byrne said, "Green4Good represents a compelling argument for creative collaboration between corporations seeking to do good in terms of social responsibility and social organizations who can identify the need and address it efficiently and urgently when given resources. It also represents a win for the environment as our 90+% end-of-first-life™ IT asset re-use rate attests."
Green4Good has received numerous recognitions over the years and was this past November honoured with the Toronto Region Board of Trade's 2014 Business Excellence Award for Sustainability.